The History of Montauk Manor
Once upon a time a man had a vision. The time was the summer of 1925. The man was the multi-millionaire industrialist Carl Fisher, who was responsible for the development of Miami Beach, Florida. The vision was to create the "most fabulous summer resort ever imagined in the western world", in a place called Montauk, New York. His resort would have a beach club, a yacht club, polo fields, a golf course, glass enclosed tennis courts, a boardwalk extending for over half a mile along the ocean, a ranch and health spa. Most fabulous of all would be his 200 room, English Tudor Hotel built high atop Signal Hill — the Montauk Manor.
In the spring of 1927, a part of Mr. Fisher's vision became a reality, with the opening of The Manor as the grand centerpiece. Ballrooms were filled with the rich and famous of the day.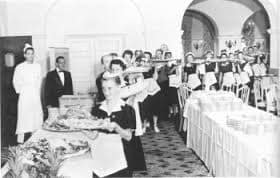 Restaurants were serving internationally acclaimed cuisine. Croquet was being played on the expansive front lawn. Tea was served on the veranda overlooking the entire 10,000 acre dream resort. In short, Montauk Manor was the quintessence of luxury… a fairy tale castle in a magical time.
But the ravages of time and economic change destroyed Mr. Fisher's dream, until virtually nothing remained, save the Manor, which stands as a testimonial to the grandeur of days gone by.
And now, this national landmark has been restored, once again to its original splendor and beauty, allowing a limited number of fortunate people the opportunity of living in Mr. Fisher's "Castle on the Hill" in Montauk, New York.
The Manor contains 140 condominium apartments, a magnificent outdoor heated swimming pool, a private health club and three tennis courts. Complete hotel services are available and all residents may enjoy the deluxe service which for so long had been the trademark of Montauk Manor. The apartments range in size from studio, to deluxe three bedrooms, all with full kitchens. There is a large variety of layouts, and all but the studio units are available as simplex or duplex, depending upon personal preference.
We take pride in welcoming you to the world of Carl Fisher's most splendid of all resorts… The Montauk Manor.